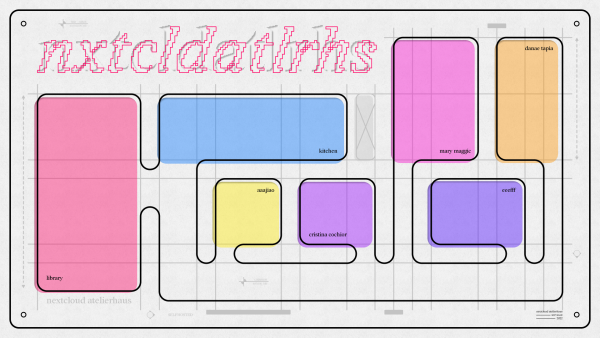 With the last UPDATE of our next cloud instance we transformed the "Next Cloud Residency" folder into something wider: an ENTIRE ATELIERHAUS.
Next Cloud Atelierhaus is a one-month online residencies program hosted in the servus.at cloud, in which 5 invited artists will have access to our infrastructure to create a project and engage and collaborate with each other. The participants are invited to use all the tools in the cloud instance, which is a content collaboration platform build around the idea of cooperating with the others: it allows communication channels such as chats and video conference, and it has specific tools to organize group workflows.
From the Residency to the Atelierhaus
Throughout 2021 we have been organizing the "Next Cloud Residency", consisting of an online folder in our self-hosted cloud, that every month was given to one artist. They could upload new content, or modify and delete what was already there, and thereby engage with each other's work with an open source and creative commons spirit.
Within The Next Cloud Atelierhaus, servus.at aims at creating a short-term digital institution whose role is to enrich online residencies through online means - fostering digital art and supporting its needs. As a curatorial experiment of self-made institution, the project investigates what can be the role of the Atelierhaus – or the studio house – in the online spaces.
During the residency we will have weekly meetings, studio visits with guests, hangs out activities and a final open studio presentation.
Participating Artists:
Danae Tapia, eeefff, aaajiao, Mary Maggic, Cristina Cochior
---
About
The Next Cloud Atelierhaus is curated by S()fia Braga, Davide Bevilacqua & Pitscher for servus.at
Design: Juan Pablo Linares
Web Development: Pitscher
The Next Cloud Atelierhaus is funded through LinzIMpORT 2021 - Linz Kultur
& Kunst und Kultur im digitalen Raum - Land Oberösterreich.