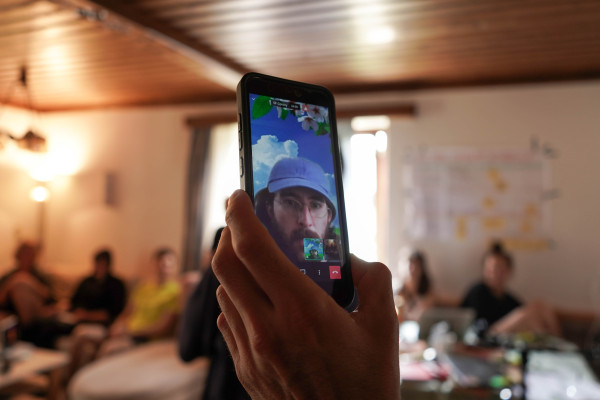 The Silicon Friend Camp was a 5-day retreat for 17 cultural workers to examine "Artificial Intelligence" (and non-sense) in the mountain valleys of the Salzkammergut. The project was organized by servus.at with funding from LINZimPULS and conceived by curator Davide Bevilacqua and media artist Matthias Pitscher. The artist Rosi Grillmair joined as facilitator and program supervisor. For our culinary delights Hess Jeon created an amazing menu and Giacomo Piazzi helped with technical support.
The 12 selected artists came from a broad variety of fields and cultural backgrounds. One of them even joined us remotely from the Andes in Columbia. Their planned projects ranged from remote-controlled robots, to philosophical essays, music pieces with artificial neural networks, or anthropomorphized vaccuum cleaners.
We gathered online first on our self-hosted forum, where we organized our days, envisioned workshops and collaborative artworks. During our days in our vacation hottage we spent a lot of time together with our laptops through our networked home. To get deeper into the topic, we created reading circles and Caroline Sinders also joined us telematically to talk about the politics of AI. Every day we came together for group validations and celebrated our dinners with computer generated table prayers. We spent our nights at the digital campfire (a projector in the attic), where we shared stories of the end of philosophy or knowledge of esoteric coding languages.
Throughout our time we made new friends (both machines and humans), created many experiments and even finished some artworks. In November, the resulting works will be made accessible to the public at the WHA Gallery in Linz. In addition, a symposium on the topic of "Conversations with Computers" will take place at the same time at the Kunstuniversität Linz. Thanks to all the amazing carbon based friends: Błażej Kotowski, Dasha Ilina, EKHEO (Aude Langlois & Belinda Sykora), Erica Jewell, Lina Schwarzenberg, Maks Valenčič, Mariana Marangoni, Naoto Hieda, Sebastian Mira, So Kanno, Yuxi Liu
Eating is a sacred, human right
But food is getting scarce
There are humans who are hungry
And there are humans who are fat
We must ask ourselves,
Who are the humans?
I am the human
You are the human
We are the human
Because I am the human,
You are the human
We are the human
Because you are the human,
I am the human
Because we are the human,
You are the human
Because I am the human