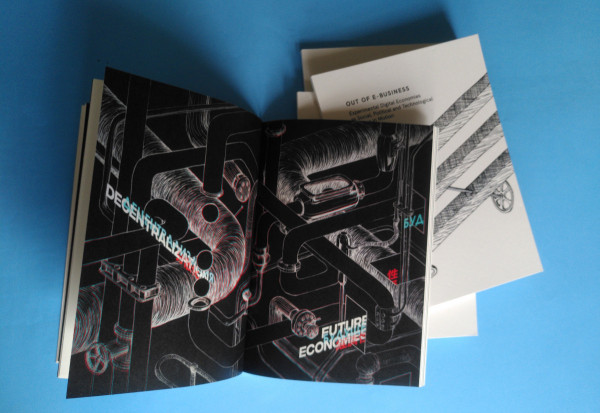 "Out of E-Business - Experimental Digital Economies as Social, Political and Technological Critique in Motion" is an edited series of interviews dealing with the topics of cryptocurrencies and decentralization, alternative community economies, experiments with digital tokens and ideological critique of the latest developments in market economics and the globalized dynamics of value distribution and generation.
The texts included in the publications have been developed throughout conversations with the participants of the series of workshops on the topics of alternative economies and digital currencies hosted by servus.at in 2019.
Participating artists: Martín Nadal and César Escudero Andaluz, Franz Xaver and the STWST Infolab, The Economic Vivaria Research Institute (Sarah Friend and Saraswathi Subbaraman) and Jaya Klara Brekke, John W. Fail.
Published by servus.at
Edited by Davide Bevilacqua & Katja Lux
Translations and language editing: Sam Bunn
Illustrations by Virgile Bellaiche
Design, Typesetting, Software: Christoph Haag (lafkon.net)
Funded by: LINZimPULS 2018
Special thanks to servus.at main sponsor 2021-2023: Linz AG