Event:
Tuesday, 26 February, 2019 -

19:00

to

21:00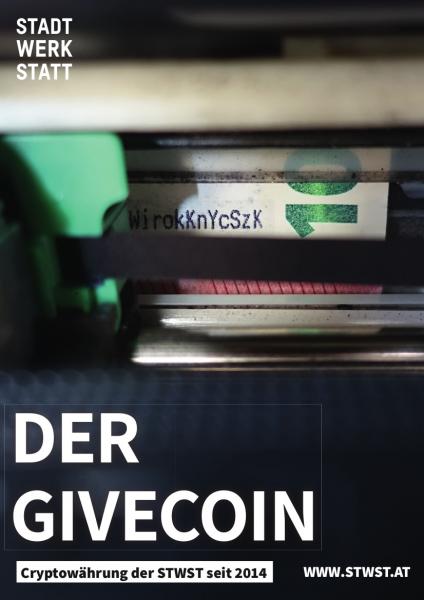 Tuesday, 26.2.2019, 19.00 h in the Servus Clubroom
The event will be held in german.
A blockchain is a constantly growing list of records that are linked one to each other. Instead of being a specific, unique software, blockchains can be described as a set of different technologies designed to create public and shared databases that record transactions between different parties. Under this understanding, blockchains can cover various fields of application, from the best known field of cryptocurrencies to insurances, real estate registers, or the shipping and transportation of goods.
Gottfried Gaisbauer from servus.at will give a technical introduction to the functionality of blockchains and their variants.
The STWST Infolab will then present its new blockchain-based project XGiveCoin: a crypto currency that extends the common currency Gibling and the Givecoin, the STWST's first blockchain project from 2014.
The XGivecoin
A connection between Euro - Gibling - Givecoin and XGiveCoin
As artists, we are in search of new perspectives on our value system. Our conventional money system is getting on in years and is therefore also called FIAT money.
The Givecoin is a cryptocurrency of the STWST. Its blockchain was initiated in 2014 and has no nominal value. From 2019 the Givecoin can be printed in the form of "Private Keys" on the gibling or any other banknote. As of 26.2.2019, you can come to the Stadtwerkstatt office with your giblings or banknotes at any time during office hours and print them yourself with Givecoins. This action is temporarily limited to 5000 Givecoins. The "private key" on your banknote can also generate an artificial value in the future: through the printed "Private Key" the Givecoin value can be inserted through a web interface back into the blockchain and a "WebWallet".
The XGiveCoin from 26.2.2019:
The Givecoin serves only as a transfer medium to the XGiveCoin and can be changed to XGivecoins via a web interface. The XGiveCoin is based on current blockchain technology. Protocol "Cryptonote" allows completely anonymous transactions and therefore offers more possibilities than the Bitcoin. Each Givecoin can be exchanged via an address into 1000 XGivecoins. However, the XGiveCoin can also be mined normally. With the event on 26.2.2019 the possibilities of this blockchain will be discussed. "Proof of Chaos" or the implementation of documents and contracts.