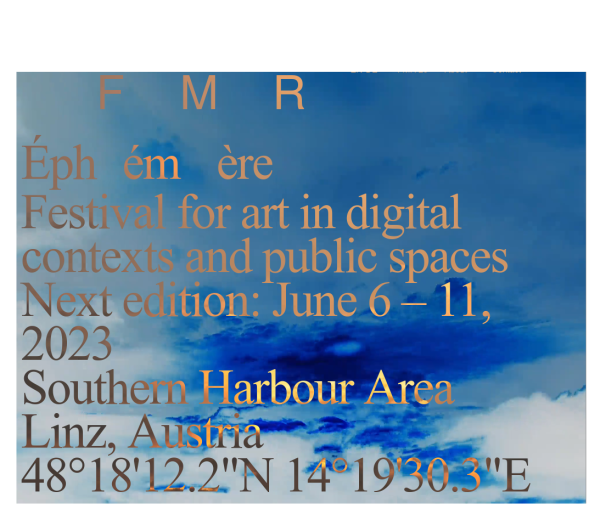 FMR23 -Festival for art in digital contexts and public spaces
June 6th-11th 2023, Southern Harbour Area, Linz, Austria
LINZ FMR is a biennial festival and format for artistic processes and positions, that reflects the ephemeral nature of our digital and connected present. The ever-advancing digitalization of everyday life implies an intense overlapping and layering of familiar physical, but also finely interwoven digital spaces. LINZ FMR focuses on the shifts, distortions and rifts that arise in this process and presents current artistic positions in this context.
The festival, whose title alludes to ephemerality and short-livedness, presents works whose initial ideas can be found in virtual and/or digital space or have a strong reference to it, but are shown (sometimes in a transformed way) in the physical surroundings of the City of Linz. The focus is primarily on the interstices that arise during these transformations into public space—outside of museums, galleries or art spaces.
From 6 to 11 June, 2023, LINZ FMR, the biennial festival for art in digital contexts and public spaces, will take place for the third time. After FMR 19 alongside the Danube river and FMR 21 around the train station Mühlkreisbahnhof, this time FMR 23 will transform the southern harbour area into a freely accessible art space.
Opening
Tuesday, 6th Juni 2023, 6pm, Vereinshaus des Kleingartenvereins Linz-Ost, Prinz-Eugen-Straße 40, following Guided Tours and Opening Concerts
FMR 23 brings to Linz a large exhibition centered around venues such as the Kleingartenverein Linz-Ost, hello yellow Velodrom & Pumptrack, Klimaoase Linz-Lustenau, Linzer Stadtalm and vacancy of former Quelle/Woolworth/NORMA store in Industriezeile. On display will be works by numerous artists from the fields of media art, digital art and Internet art. The program also includes lectures, talks, concerts, performances and tours.
Participating artists: !Mediengruppe Bitnik (DE / CH / CR), Anne Fehres & Luke Conroy (NL / AU), Clemens Stöttinger (AT), Clusterduck (IT / FR / DE), Constant Dullaart (NL), Dennis de Bel & Anton Linus Jehle (NL / DE), Julian Oliver & Gordan Savičić (NZ / AT / CH), Julian Stadon (AU), Justin Tyler Tate (CA), Marie-Luce Nadal (FR), Marisa Olson (US), Mitra Azar (IT), raumarbeiterinnen (DE / AT), S.Myselle (AT), S()fia Braga (IT), Studer / van den Berg (CH), Studierende der Abteilung Mediengestaltung an der Kunstuniversität Linz (AT), Swaeny Nina Kersaan (NL), TinTin Patrone (DE), ViaOral (NL)
The programme also includes lectures and artist talks on topics such as Ephemeral Circuits, Wild Computing, Detoxing Digitality and Chromatic Fermentation curated by servus.at . In addition to the Opening Night, performances from the field of electronic music will also be offered at a Concert Night on Friday, 9 June, with Stefano D'Alessio (IT), Crystn Hunt Akron (AT), Floating Spectrum (TW), SØS Gunver Ryberg (DK), Francesco Luzzana & Sofia Casprini (IT), Antenes (US), Sturmherta (AT), Mermaid & Seafruit (PL / AT) & Antonia XM (AT). In addition, there will be daily performances by the participating artists on the festival grounds as well as guided tours with art mediators and curators.
Responsible for the festival is the association "LINZ FMR—Art in digital contexts and public spaces". It was founded by the two art and cultural initiatives qujOchÖ and servus.at, Atelierhaus Salzamt of the City of Linz, University of Arts Linz and Sturm und Drang Gallery. Their representatives have been involved in the conception, organization and curation of the festival since its first edition in March 2019.
FMR 23 is funded by the City of Linz as UNESCO City of Media Arts, the State of Upper Austria and the Federal Ministry for Arts, Culture, the Civil Service and Sport, and supported by our main sponsors LINZ AG and Gutenberg-Werbering and a number of co-sponsors Plasser & Theurer, Datapress, Christian Schepe Fineartprinting, Schachermayer, ARCOTEL Nike Linz, Austria Classic Hotel Wolfinger, Das Landhof, arte Hotel Linz, TIER, city bike Linz, MOTORMOBIL Autohaus Dornach, Freistädter Bier, brotsüchtig, connect724, USP, Gebrüder Weiss, Schuller Eh'Klar, and our further partners & supportersLinz Tourismus, Innovationshauptplatz Linz, younion Oberösterreich, Kleingartenverein Linz-Ost, Klimaoase Linz-Lustenau, hello yellow Velodrom & Pumptrack by Schachermayer, Linzer Stadtalm, Mamapapamoo – Streetfood Austria, Radio FRO, DORF TV und DIE REFERENTIN.