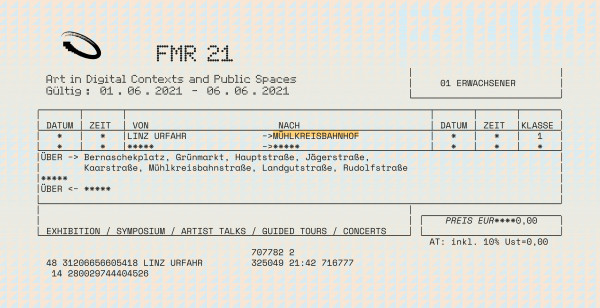 servus.at and its community are part of the organization and curatorial board of FMR 21, second edition of the festival for art in digital contexts and public spaces.
LINZ FMR – Art in Digital Contexts and Public Spaces is a biennial festival and format for artistic processes and positions, that reflects the ephemeral nature of our digital and connected present. The ever-advancing digitalization of everyday life implies an intense overlapping and layering of familiar physical, but also finely interwoven digital spaces. LINZ FMR focuses on the shifts, distortions and rifts that arise in this process and presents current artistic positions in this context.
The festival, whose title alludes to ephemerality and short-livedness, presents works whose initial ideas can be found in virtual and/or digital space or have a strong reference to it, but are shown (sometimes in a transformed way) in the physical surroundings of the city of Linz. The focus is primarily on the interstices that arise during these transformations into public space – outside of museums, galleries or art spaces. At the same time, LINZ FMR attempts to subject the concept of sculpture to a contemporary update and to reflect on questions of transience, ephemerality and obviousness.
Par­tic­i­pat­ing artists of sec­ond edition:
Thomas Alb­dorf (AT), thomasalbdorf.com, Fil­ipe Vilas-Boas (PT/FR), filipevilasboas.com, Clara Boesl (AT), instagram.com/karlbrosl, DARV (AT/BG), darv.org, Dries Depoorter (BE), driesdepoorter.be, Unnur Andrea Einars­dót­tir (IS) with Boris Kour­toukov (RU/CA), unnurandrea.net, Tom Galle (BE), tomgalle.online, Kyr­i­a­ki Goni (GR), kyriakigoni.com, Edurne Her­rán (ES), pinkblood-globulosrosas.blogspot.com, Yarli Alli­son (CA), yarliallison.com, Lucas LaRochelle (CA), lucaslarochelle.com, Dominik Mor­ishi­ta-Leit­ner (AT), dominikleitner.tumblr.com, Aim­il­ia Lion­tou (GR), aimilialiontou.com, Stephanie Lün­ing (DE), stephanieluening.com, Jaakko Myyri (FI), jmyyri.com, Han­nah Neck­el (DE), hannahneckel.com, Elisa Gia­r­di­na Papa (IT), elisagiardinapapa.org, Car­los Sáez (ES), instagram.com/carlossaez1, Matthias Pitsch­er (DE), pitscher.net, Simon Weck­ert (DE) with Arman­deus Meni­ak (DE) and Lucas Novy (DE), simonweckert.com, Zara Worth (GB), zaraworth.com
LINZ FMR 21 is curated and organized by the independent artist collective qujOchÖ, the net culture initiative servus.at, the Atelierhaus Salzamt, the University of Art and Design Linz and the Sturm und Drang Galerie.
FMR 21 will take place in the surroundings of the Mühlkreisbahnhof railway station in Linz Urfahr.
---
Funders: City of Linz as UNESCO City of Media Arts, State of Upper Austria, Federal Ministry of Arts and Culture, Civil Service and Sport
Main sponsors: Gutenberg-Werbering GmbH, LINZ AG, Datapress, Christian Schepe Fineartprinting
Co-sponsors: Austria Classic Hotel Wolfinger, kopierpapier.at, Freistädter Bier, brotsüchtig, a.m.friepess, Hotel Lokomotive, Schaffelhofer Elektroinstallation, Schuller Eh'klar, leit-werk, plexcom, connect724 GmbH
Special thanks go to DIE REFERENTIN, Radio FRO, Cros­sing Euro­pe, Linz Tou­ris­mus, Inno­va­ti­ons­haupt­platz Linz, ANWALTGMBH Rin­ner Teucht­mann, Juwe­lier Pich­ler, Kroh & Part­ner Zivil­tech­ni­ker GmbH, RUNNER STORE, Tep­pich­dok­tor und Wein­turm.