Event:
Wednesday, 20 November, 2019 - 18:00

to

Thursday, 21 November, 2019 - 21:00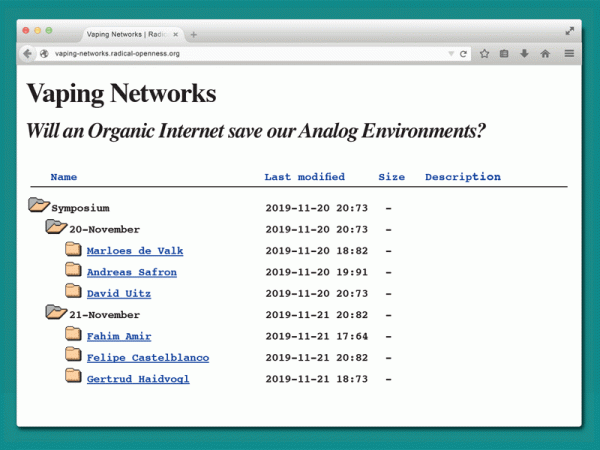 20th and 21st November 2019, 18:00 hrs
Kunstuniversität Linz, Domgasse 1
Zeitbasierte Medien "Wohnzimmer" (DO0458), 4. OG
Despite its alien appearance, the network of devices, connective cables, and endless data centers are deeply rooted in the earth's womb. The smooth and light surfaces on which we surf, seem to leave no traces. Even though they deeply impact the environment, regarding resources, inter-species relations and overall the status of the biosphere.
This two-evening symposium aims at analyzing the intersection of digital and analog environments and considers contemporary trends in the technological development. Current frameworks of extractivist exploitation of resources and of digital greenwashing will be visualized through tools from the discipline of ecology and the eco-activist practices and through the role non-human agents play in networks and infrastructures.
Organized by servus.at Research Lab 2019 / Christina Gruber, Antonio Zingaro and Davide Bevilacqua in cooperation with the department of Timebased Media of the University of Art and Design in Linz.
Program
20.11
Marloes de Valk
Andreas Safron
David Uitz
21.11
Fahim Amir
Felipe Castelblanco
Gertrud Haidvogl
Three selected talks are now available to watch on the Linz community channel dorftv: