Event:
Friday, 9 June, 2017 - 18:00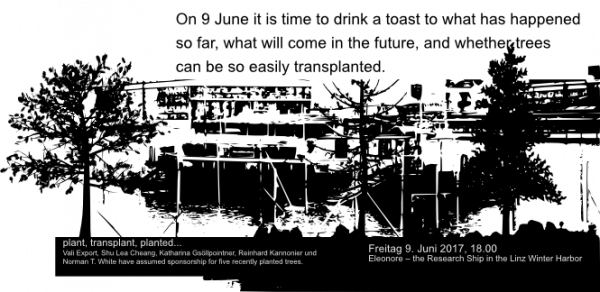 Eleonore – the Research Ship in the Linz Winter Harbor
The research ship Eleonore has been docked in the Linz Winter Harbor since 2009. Over the years, the Danube-aquatists have not only reclaimed the Danube as a space in the city for living and experimenting, but have also established the project as an international artist-in-residency opportunity.
As Armin Medosch* described the background of this project so incomparably succinctly: "The Eleonore opens up a different access to reality, which has something almost utopian about it today, a flare of lightning on the horizon, alluding to the possibilities of both individual and collective autonomy, a new form of relationship with nature, and an understanding of science and technology different from that left over from the murderous dialectic of the Enlightenment (Horkheimer & Adorno 1988)."
Valie Export, Shu Lea Cheang, Katharina Gsöllpointner, Reinhard Kannonier and Norman T. White have assumed sponsorship for five recently planted trees.
On 9 June it is time to drink a toast to what has happened so far, what will come in the future, and whether trees can be so easily transplanted.
In this sense we look forward to numerous guests and inspiring discussions!
Drinks will be available at cost.