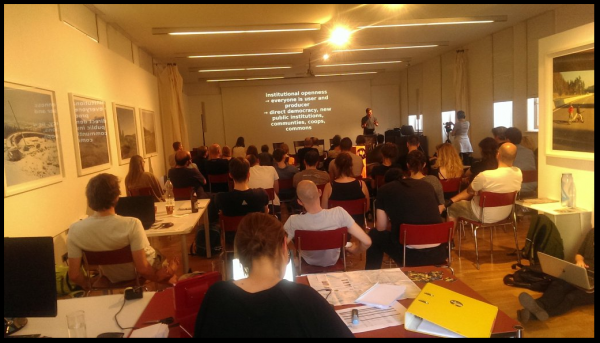 AMRO - Art Meets Radical Openness 2016, Linz
Festival dedicated to Art, Hacktivism and Open Culture
Waste(d)!
25.05-28.05.2016
The four days lasting festival under the topic "Waste(d)!" was devoted to aspects of the conditions of our digital infosphere that are increasingly perceived as complex. The act of saving, deleting, or resurfacing data and information has taken on a life of its own, is monitored, monetized and waste valuable natural resources.
What is the cultural, social, philosophical, ecological, and economic significance of producing, saving, deleting, and resurfacing data?
AMRO is a biennial community festival in Linz that probes and engages with new challenges between digital culture, art, everyday life, education, politics, and taking action.
Audrey Samson, Emilio Vavarella, Fabian Kühfuß, Fictilis, Ivar Veermäe, Joakim Blattmann, Linda Kronman & Andreas Zingerle (KairUs), Martin Reiche, Michael Wirthig, Michaela Lakova, Owen Mundy, Raphael Perret, Shu Lea Cheang, Simon Krenn, Matthias Urban, Times of Waste, Wolfgang Spahn, César Escudero Andaluz, Sabina Hyoju Ahn, Manetta Berends, Tatiana Bazzichelli, Alessio Chierico, Christina Cochior, Richie Cyngler, Vincenzo Estremo, Marina Gržinić, Adnan Hadzi, Charles Céleste Hutchins, MissData & Israeli Pirates, Fieke Jansen, Joseph Knierzinger, Taro Knopp, Anne Laforet, Evan Light, Ling Luther, Manu Luksch, Roman Lauko, Joana Moll, Daniel Neyland, Martín Nadal, Jakub Pišek, Anne Roth, Byron Rich, Matthew Rice, Aneta Stojnić, Felix Stalder, Malte Steiner, Przemyslaw Sanecki, Martina Schönbauer, Mary Tsang, Stefan Tiefengraber, Christian Voigt, Marloes de Valk, Ruben van de Ven