We are very proud to announce our freshly set-up server for BBB (BigBlueButton): https://bbb.servus.at
You may find detailed information on what BBB is and how to use it in the descriptions and links on this page.
BBB — Your alternative to Zoom & Co.
BBB is an open source web conferencing system: https://github.com/bigbluebutton/bigbluebutton. After much positive feedback and making good use out of it during AMRO20, and also due to the fact that the COVID cases are on the rise again, we decided to offer it as part of the toolbox for members. For the foreseeable future we will keep this platform running for our members and aligning associations who seek alternatives to and shelter from data-hungry tech giants.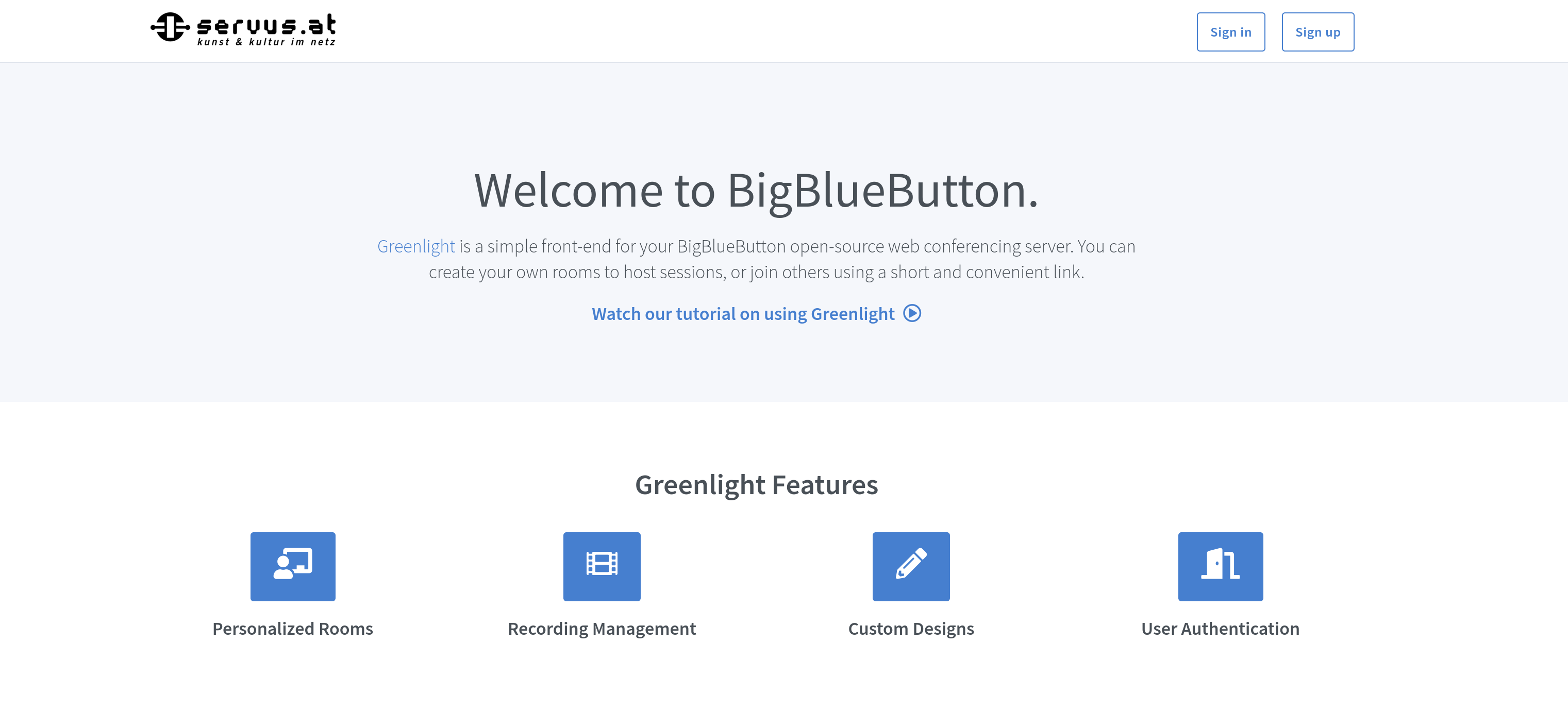 WHO and WHAT is it for?
In short it is a digital webinar platform. You can think of it as a replacement for physical spaces, a digital room for your events and meetings.
In case you or your association is in need for a tool to organize and hold events, meetings, workshop sessions, distant learning/courses and you are either privacy-aware, or in need for an affordable but capable alternative or BOTH: BBB might be what you are looking for.
WHAT is it NOT for?
BBB is:
NOT an all-in-one solution for your events. You still have to organize, moderate and manage it yourself.
NOT a streaming platform like YouTube, Twitch or dorfTV. There is a limitation to how many people can actually join.
NOT a video archiving platform for events or meetings.
NOT a quick-call solution alternative to Jitsi, Nextcloud talk etc.

What can the software do/offer?
BBB, through it's web interface, offers:
real-time sharing of audio, video, slides (with whiteboard controls), chat, and the screen. Instructors can engage remote students with polling, emojis, multi-user whiteboard, and breakout rooms. Presenters can record and playback content for later sharing with others.
This is of course presented through a customizable interface and many other features. As the developers put it:
We designed BigBlueButton for online learning (though it can be used for many other applications). The educational use cases for BigBlueButton are

Online tutoring (one-to-one)
Flipped classrooms (recording content ahead of your session)
Group collaboration (many-to-many)
Online classes (one-to-many)
What we as servus.at offer is the platform, to the extent of what the software is capable of; and our knowledge that we acquired over time, using it for organizing events and meetings. So all you need to do is to make sure you have someone in your work group or association that can handle moderation and the organization of the event on the platform, and then get in touch!
Free not as in "Free Bier", but like "Free Donation!"
All of this effort requires maintenance and organizational work, alongside hosting costs.
It is an addition to our daily infrastructure work, but we realized it can be an important support for our community as well as ourselves, especially in this pandemic time.
How much can it cost?
At the moment we plan to keep the instance for the entirety of 2021.
Running and maintaining the server costs us an extra 6000 EUR per year, which cannot come from our regular funding. We are currently applying for additional funding, but any contribution helps.
We would like to ask you to approach using this digital space as if it were a physical one. So you can keep this in mind when considering to prepare your location budget for the event.
Solidarity rates and sharing resources
We would like to maintain the platform through a solidarity model.
servus.at members contribute largely to our infrastructure with their memberships fees. Even if BBB is not part of the digital toolbox we can maintain through our normal funding, we are happy to offer it to our members for solidarity donations.
Institutions with regular funding should help covering a larger part of the platform costs so that also individuals or small groups with no or little funding can benefit from the available BBB instance.
Culture first, money later (It should not fail because of money)
We don't want events not to happen or to be held on proprietary platform simply because of the limited financial resources of groups or individuals doing precious cultural work do not allow them to pay a fixed rate.
Please feel free to look at the following fee example list and propose us a donation which is sustainable for your pockets and situation.
Time required

Resources required
"How many participants?"

1. Soli
(servus.at members)
2. Standard
(servus.at friends)
3. Rich Kids
(large or commercial organizations)
Up to 2 short meeting (less than 3 Hours) per month
Shared
for free!
40 Euro
100 Euro
1 full day or series of appointments up to 24h per month
Shared
80 Euro
200 Euro
500 Euro
Dedicated
200 Euro
400 Euro
1000 Euro
1 Weekend '(2 - 2,5 Tage)
Shared
200 Euro
600 Euro
1200 Euro
Dedicated
300 Euro
900 Euro
2500 Euro
Shared resources = optimal for < 40 ppl in the call (parallel sessions of other users can happen)
Dedicated resources = optimal for > 40 ppl (only you will use the server at this time, best for large events)
Recurring Meetings & Single Events: Fair Use Policy
Software wise it does make a difference if you want to organize a small meeting or a large one.
The entire server can handle max 200 participants simultaneously, therefore we have to find a way to manage the amount of meetings taking place at the same time. If the server hits its limits, all the simultaneous calls will slow down and the experience will become uncomfortable for everyone.
If you would like to use BBB for a meeting with a limited amount of participants (up to 40), make sure there are no other large events planned for the same time slot.
If you would like to have small events happening on a regular schedule (eg. every 1st Monday of the month in the evening), please make sure that this is communicated in the calendar.
If you are planning to use BBB for a larger event (eg. a festival with a keynote and some workshops), make sure the slots are reserved at least 3 weeks in advance.
"I want it now!" — How can you start using it?
We are currently working on a system to make requests easier in the future. But for now you can reach out to us via email at bbb@servus.at with the following information:
Who is going to handle moderation for your session(s)/event(s)?
Do they require an introductory hand-over session from us?
Are you planning a one-time event or in need of regular use?

If one-time event:

When is the event happening?
Approximately how many people are expected to join?

If regular use:

Beginning and end date?
How many sessions per week/month?
How many hours per session? Time-slot?
How many users per session?

How much can you contribute to the infrastructural costs?
We will follow-up your request with the necessary information and guidelines on how to use BBB and organize your access to the platform. In the meantime you can check out the public calendar for the scheduled events to see the availability here: https://k4.servus.at/apps/calendar/p/7JR8AX7SgEk6dw7Z/dayGridMonth/now and add it into your own calendar: https://k4.servus.at/remote.php/dav/public-calendars/7JR8AX7SgEk6dw7Z/?export
All of the information here and what we will communicate to you directly might change over time, as we look to structure this new tool for the community. Thank you for your understanding!
Documentation, Guides & How Tos